Are you looking for something tasty to make out of those blackberries that are overtaking your yard?
I brought this cobbler to a potluck event recently and it got rave—"best cobbler I've ever had"—reviews. I followed Rachelle Himmelman's Gluten-free Baking recipe—with the following modifications–in bold:
Prep time: 15 Minutes
Cook time: 45-55
Total time: 60 Minutes
Ingredients:
4 Cups Blackberries (fresh or frozen)
Note–The bigger the berries, the less seeds (crunch, crunch)
1/2 Cup Sugar
1 Tablespoon Gluten-free all purpose flour (jules)
I used Bob's Red Mill All Purpose Gluten-free flour because it relies on Garbanzo and Fava bean flours. I think these provide better flavor and consistency than rice flour. I also added a couple of teaspoons of Bob's Arrowroot Starch just because I had some and it seemed like a reasonable addition.

I also added half an organic lemon, finely chopped—thin skinned is best. This makes the cobbler a little less sweet.
FOR THE TOP:
1 Cup Sugar
1 Cup Gluten-free all purpose flour (jules)
Here again, I used Bob's Gluten-free flour, but only 3/4 cup.

Then I added 1/4 cup Bob's Amaranth flour for a little nuttier flavor.
1 Teaspoon Baking Powder
I also added a scant teaspoon of cinnamon and a dash of nutmeg.
1 Whole Egg
1/2 Cup Butter (dairy-free) Melted
I used real "salted" butter.
Cooking Directions
Preheat oven to 350 degrees.
In a medium sized bowl add blackberries, 1/2 cup sugar, 1 tablespoon flour (and Arrowroot) stir until ingredients are combined and there is no longer any sugar or flour on the bottom of your bowl, set aside.
In another medium bowl add 1 cup sugar, 1 (3/4×1/4) cup flour, 1 teaspoon baking powder, cinnamon and nutmeg, lightly stir with a fork to combine, once combined make a well in the center of your bowl and add egg, stir until your mixture becomes small crumbs.
Place blackberry mixture in a ungreased 11x7x1.5 inch pan.
As you can see, I used an 8×8. For the potluck, I doubled the recipe and used a 10×14.
After adding blackberry mixture put on crumb topping, when you have your crumb topping evenly spread over the blackberries drizzle the melted butter on top of crumb mixture and bake for 45-55 minutes or until golden brown.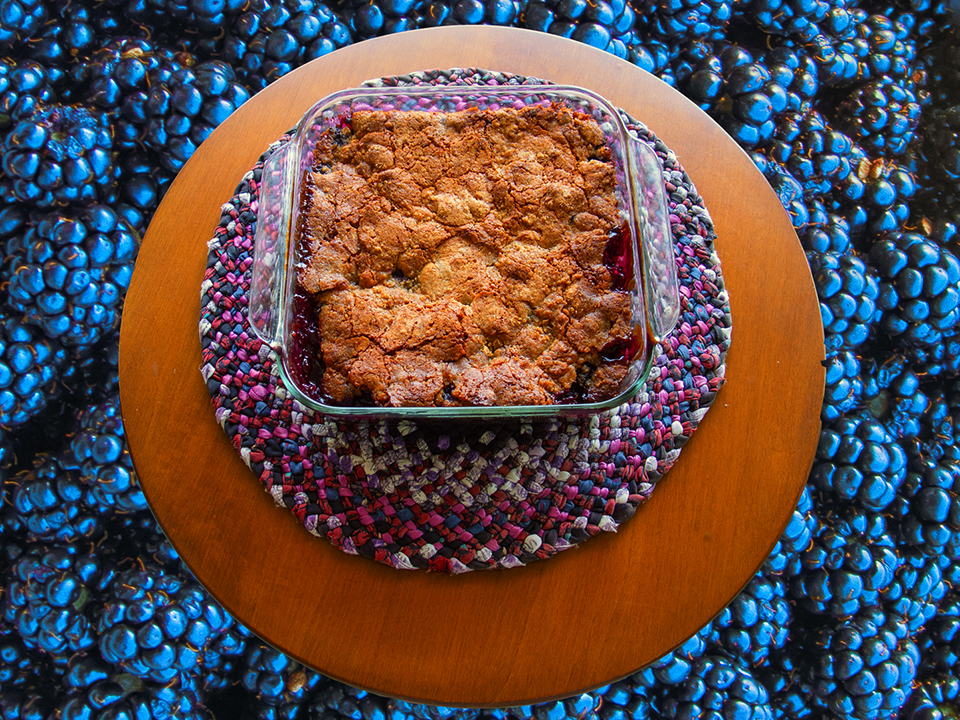 Done. Get out the ice cream.